5 Steakhouse Chains With the Best Prime Rib & Ribeye
August 5, 2023
The product recommendations in this post are recommendations by the writer and/or expert(s)
interviewed and do not contain affiliate links. Meaning: If you use these links to buy
something, we will not earn a commission.
Prime rib is not something most people make at home regularly, and that includes professional chefs. With a cook and rest time around four to five hours, it's a big project that most of us only take on around the holidays. That's one reason why it's such a popular item at a restaurant. You can enjoy a thick slice of juicy, tender, slow-roasted beef without having to invest all that time and effort.
Restaurant pros can do other marvelous things with a beef rib, too. The ribeye, for instance, is a popular type of steak cut from the very same part of the animal. The main difference between them is that cuts of prime rib happen after cooking, whereas ribeye steaks are cut before cooking. 
Whether you prefer the roast or the steak version, you can get either of these juicy, indulgent rib cuts at a restaurant that knows how to treat red meat right: the steakhouse.
Many of the nation's most popular steakhouse chains serve up both cuts, though some do a better job than others. We turned to professional chefs to share their favorites. Here's where the pros go when they're craving a prime rib or ribeye.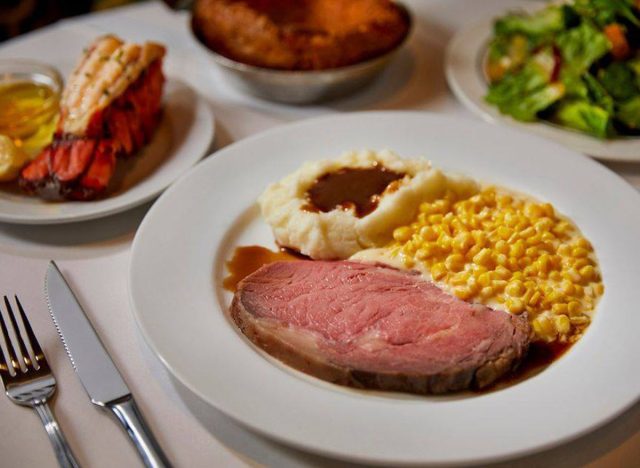 With locations in Los Angeles, Las Vegas, and Dallas, this prime rib palace is a chef favorite. "Lawry's The Prime Rib serves what I believe to be the most exquisite prime rib," says Florida-based chef Brent Moore. who spent five years running the kitchen at the Ritz-Carlton Naples, Tiburón. "With a reputation spanning more than eight decades, their prime rib is carved tableside from their signature silver carts, offering a unique dining experience that is a spectacle in itself. The meat is roasted on a bed of rock salt, which enables uniform cooking and enriches the beef with a subtle, complex flavor. The result is a tender, juicy prime rib that is unparalleled. They provide a variety of cuts, all of which are aged for at least 21 days to enhance flavor and tenderness."
One of America's top steakhouse chains, with over 600 locations, Texas Roadhouse is a popular destination for ribeye lovers. "Their ribeye steak stands out for its robust, rich flavor enhanced by a perfect balance of marbling," says chef Moore. "They hand-cut their steaks in-house, ensuring they meet their quality standards. The seasoning, which consists of a blend of unique spices, perfectly complements the natural flavors of the beef, while their grill sears in the flavors and creates a delightful crust on the exterior of the steak."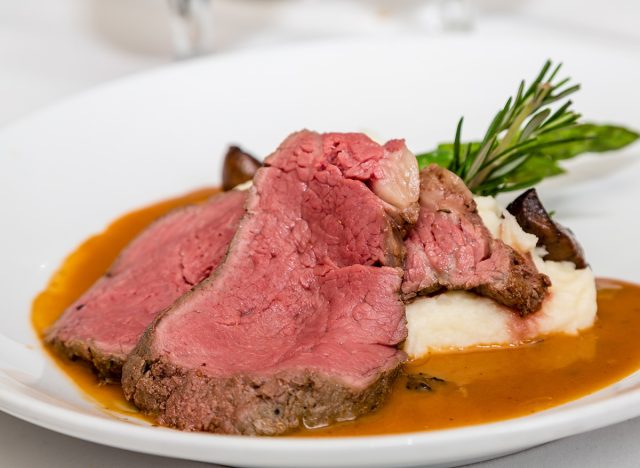 Many chefs love to support smaller, local chains, and this Massachusetts restaurant, with locations in Arlington and Saugus, is a popular destination for prime rib in particular. "They serve prime rib for lunch and dinner seven days a week," says Rico DiFonzo, executive chef of Boston's historic Union Oyster House. "Three sizes 10 ounce, 12 ounce, 16 ounce, and, should you want an even larger portion they will accommodate you. The prime rib is well seasoned and is priced at a good value, and served with fresh baked potato, and salad."  6254a4d1642c605c54bf1cab17d50f1e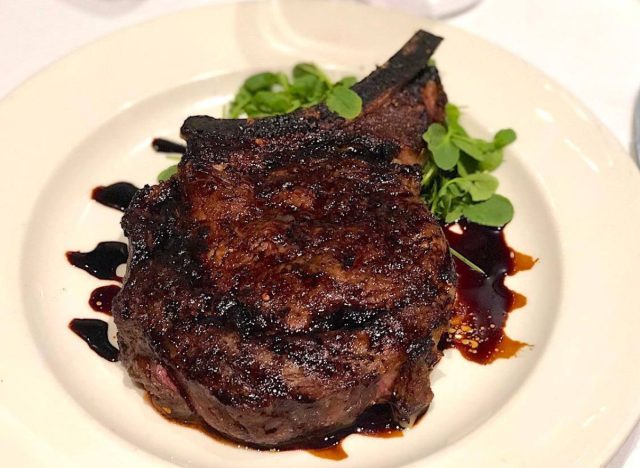 With over 65 locations around the United States, it's no surprise this upscale steakhouse is a top pick among chefs for delicious cuts of both prime rib and ribeye. "My go-to chain steakhouse is the Capital Grill," says Angelos Petropulos, chef and owner at Kosmos in Walpole, Mass. "My personal favorite is the dry-aged ribeye. Also I'm a fan of the great service, sophisticated ambiance, and attention to detail. It's always a memorable dining experience, It really stands out as one of the best steakhouse destinations."
Chef Michael Scelfo of Boston-area hotspots Alden & Harlow, Josephine and Waypoint Bar, is also a fan. "I'm a loyalist to Capital Grille," Self says. "Not only is the beef they serve top notch, but they will always customize the size and style of any cut to suit you." It's important to note that menus vary, and Capital Grille may not always have prime rib on the menu, but it's often a special. Ribeye is more likely to be available, but if you want to make sure, check the website for your local menu or call before visiting. 
One of the most popular steakhouses in America, with annual sales upwards of $200 million, this Brazilian-influenced chain is a favorite of chefs when they're looking for a great ribeye. It's a favorite of Emerio Viramontes, executive chef at Chef's Palette, located at the Canvas Hotel Dallas. "Fogo de Chao is an absolutely top-tier steakhouse," says Viramontes. "The technique used in their cooking is superior to any other steakhouse, and the cuts of meat that they use are outstanding. If I'm craving a ribeye steak, I'm going to Fogo de Chao."
Tanya Edwards
Tanya Edwards is a seasoned food and health journalist, who has held roles at Yahoo Health as Managing Editor and at Food Network as Programming Director. Read more about Tanya