Korea's time deposit rates head north on higher bank bonds' coupon
August 7, 2023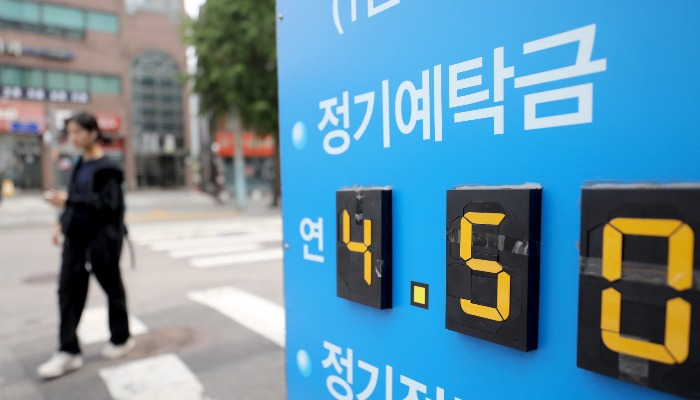 South Korea's commercial banks have joined thrifts and credit unions in a race to offer their time deposit holders higher interest to cover the climbing borrowing costs triggered by the country's money market crunch fears and the growing volatility in the US Treasury bond market.
According to the country's bank industry on Monday, interest rates on time deposits with a one-year maturity offered by not only savings banks but also commercial banks and credit unions have topped 4% this month versus the 3% range in the previous month.
Standard Chartered Bank Korea offers an annual 4.1% interest to holders of one of its term deposits as of Monday, while BNK Kyongnam Bank and Suhyup Bank set the interest rate on their respective time deposits at 4.1% and 4.02%.
Rates on similar products by the country's top five commercial lenders — Kookmin, Shinhan, Hana, Woori and NH — also range from 3.65% to 3.85%, 0.3 percentage point higher from April based on the bottom end.
HIGHER COUPON ON BANK BONDS
Korean banks and non-commercial lending institutions are competing over customers with higher interest rate-attached deposits after their borrowing costs have jumped in recent months.
According to the Korea Financial Investment Association, coupons on unguaranteed, AAA-rated bank bonds with a five-year maturity range between 4.348% and 4.359% as of Friday. Compared with May, the rates are about 0.5 percentage point higher.  
Banks generally raise capital by selling deposits or savings and issuing bank bonds. The higher coupon on bank bonds means expensive borrowing costs for banks.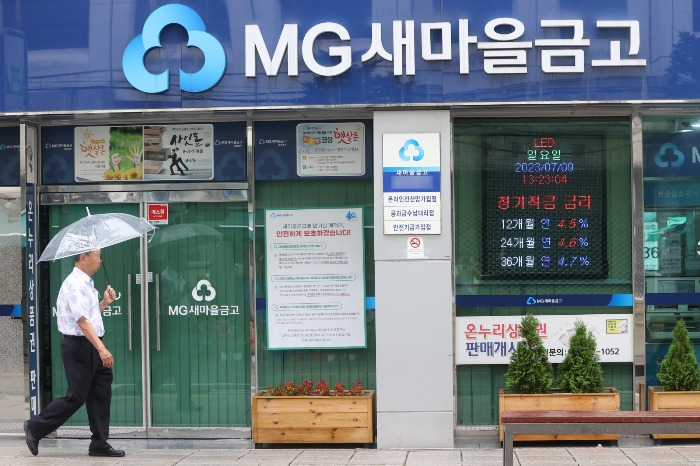 Korean bank bonds' yields ticked up in the face of growing concerns about a money market crunch in Asia's fourth-largest economy triggered by massive deposit withdrawals from MG Community Credit Cooperatives last month.
MONEY MARKET CONCERNS
News reports on the Korean credit union's high debt delinquency rates above 6% in June set off its customers' massive withdrawals from the institution's outlets.
The credit union responded with its bond sales in a large volume early last month to prevent a possible bank run, swelling the coupon on bank bonds to the mid-4% range in general.
The country's money market has somewhat stabilized since the government and state-run banks promptly offered the credit union liquidity support to ward off a liquidity crunch.
But jitters remain in the Korean money market, and the growing volatility in the US Treasury bond market is keeping the coupon on bank bonds higher.
The yield on the benchmark 10-year US Treasury note settled at 4.060% last Friday, near its highest level in more than a decade, on growing investors' bets on the world's biggest economy's resilient economic growth.  
People tend to hold longer-duration bonds to protect themselves from an economic slump.
Months ago, yields on shorter-term Treasurys climbed well above those on longer-term bonds on concerns about the economy.
Bond yields rise when their prices fall.
The average interest on one-year-maturity time deposits of 79 savings banks in Korea also stood at 4.04% as of Monday, according to the Korea Federation of Savings Banks.
As higher interest rates on term deposits are expected to further increase lenders' borrowing costs, banks are also projected to raise their loan interests.
The lowest floating interest rate on mortgage loans by Korea's top five commercial banks already rebounded to the low 4% range on Monday from the high 3% range in earlier June.  
Write to So-Hyun Lee and Mi-Hyun Jo at y2eonlee@hankyung.com
Sookyung Seo edited this article.