Pamper Yourself & Your Pup With The Pet Retreat Package at JW Marriott San Antonio Hill Country Resort
August 8, 2023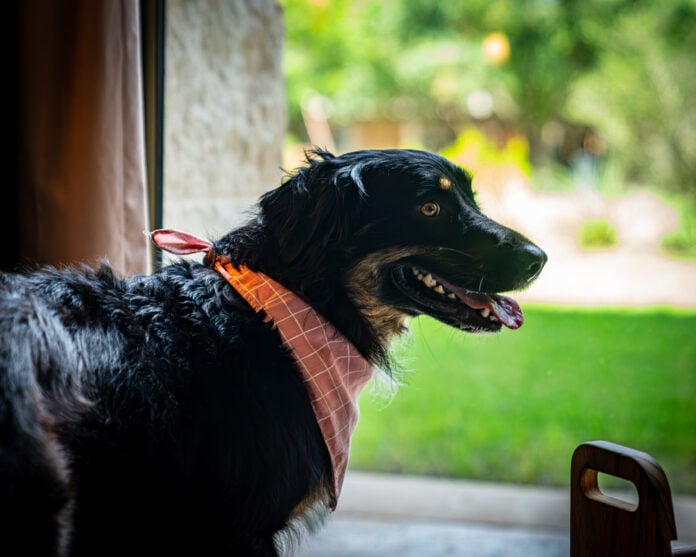 Hill Country Resort Invites Rover to Come Over Through Pet Retreat Package
SAN ANTONIO – August 7, 2023 – Dogs deserve a change of scenery and a bit of pampering just like their humans. The JW Marriott San Antonio Hill Country Resort & Spa is offering a luxury pup experience that's sure to "bow WOW" your canine companion and provide families with the ability to have their dog join them on vacation.
The resort's Pet Retreat Package offers accommodations in uniquely decorated standard guest rooms with walk out patios providing easy access to the property's lush lawns. The rooms are thoughtfully arranged for canine convenience and comfort and include a cozy dog bed, water and food bowls, and a blanket, all of which are permanent to the guest room. A take-home welcome amenity will be waiting for the guest of honor that includes a chew toy, dog treats, and a fashionable bandana to make the pup's vacation extra memorable. After each canine stay, the guest room is professionally cleaned.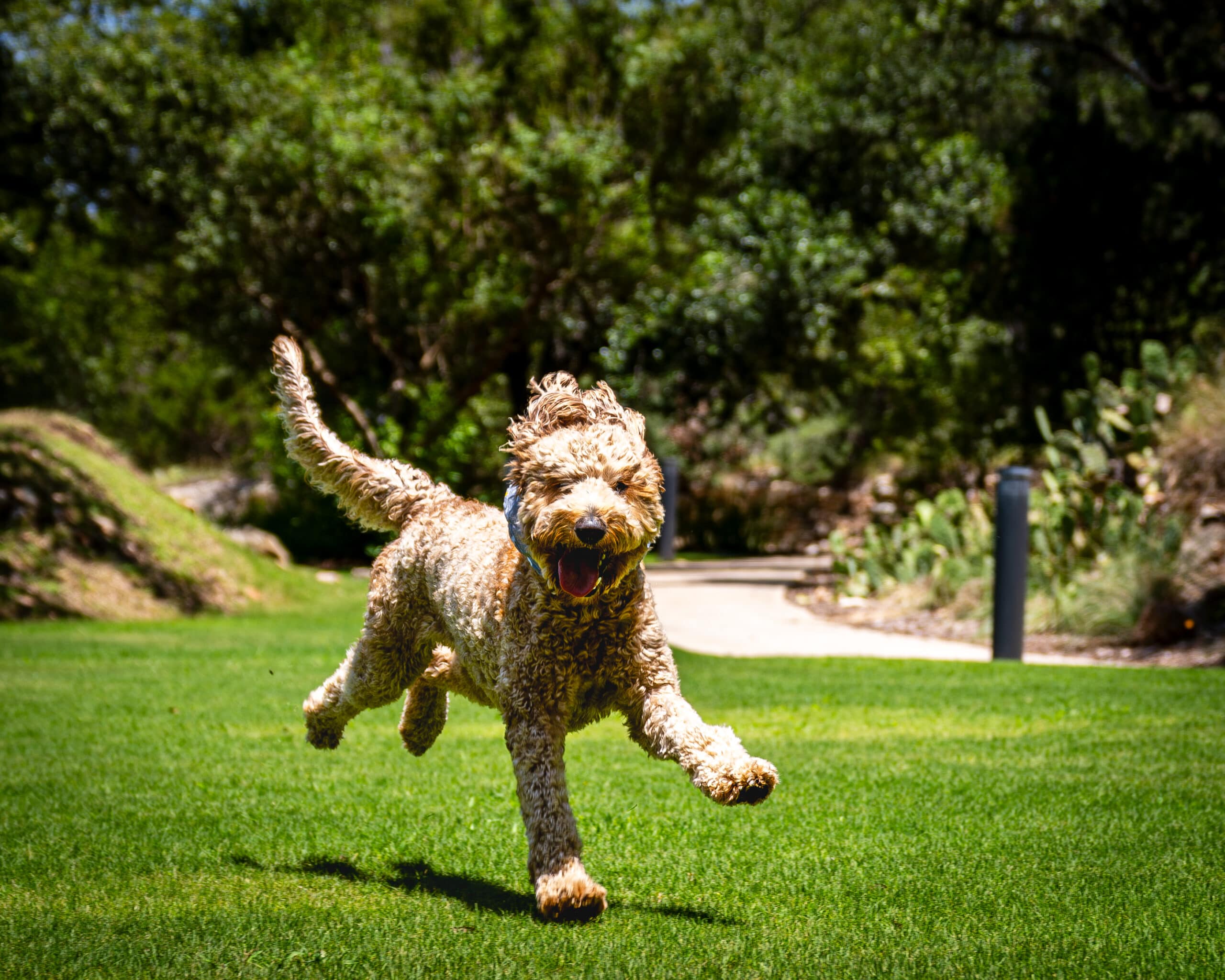 "We believe dogs are important members of every family and are excited to welcome these special guests through our new Luxury Pet Retreat Package," says Brian Morris, Director of Sales & Marketing. "We look forward to providing the whole family with a comfortable and memorable stay in the Texas Hill Country."
The Pet Retreat Package is available to book on the resort's website using the booking code, U8D. A $200 nonrefundable pet cleaning fee is required, and package rates are based on availability.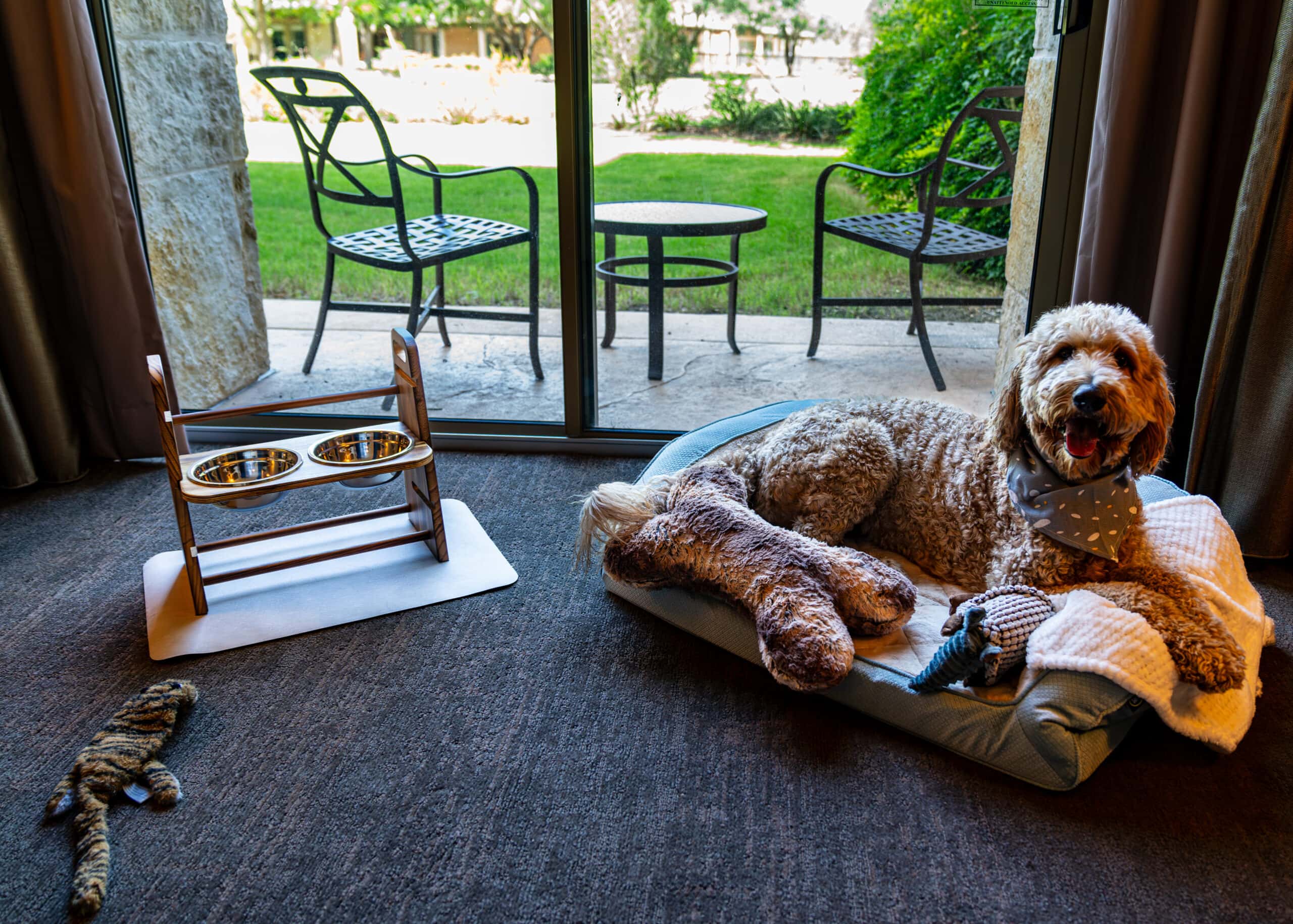 JW Marriott San Antonio Hill Country Resort & Spa is not a pet-friendly resort, but does now offer a Pet Retreat Package exclusively available for canine guests. All service animals are always welcome. Pets are not permitted inside the public hotel spaces, dining outlets, event lawns or the River Bluff Water Experience. Pets are only allowed on immediate walk-out patio lawns and on resort walking trails.
The JW Marriott San Antonio Hill Country Resort & Spa is superbly situated on 600 pristine acres of rolling hills and tree-lined vistas, and an adjacent 100-acre bird sanctuary, offering grand views of the wide-open Texas Hill Country. There are various walking and running trails throughout the resort's property, perfect for dogs who need a little extra exercise or for their humans who want to enjoy the native landscapes and wildlife of the region.
This iconic lone star retreat offers endless options of entertainment for guests of all ages, including the canine species, making it a vacation standout. The luxurious, award-winning JW Marriott San Antonio features 1,002 newly refreshed guest rooms, nine-acre River Bluff Water Experience, a world class spa, TPC San Antonio's two 18-hole PGA TOUR golf courses, eight dining options, hiking and biking trails, sports court, Topgolf Swing Suite, daily summer recreational activities, and 265,000 square feet of meeting and event space, making it one of the largest JW Marriott resorts in the world.
Through the new Pet Retreat Package, JW Marriott San Antonio Hill Country Resort & Spa now provides a luxurious getaway for families traveling to the Texas Hill Country with their dog.
About JW Marriott San Antonio Hill Country Resort & Spa 
Welcome to a San Antonio resort truly worthy of the Lone Star State. JW Marriott San Antonio Hill Country Resort & Spa has firmly established itself as the city's premier luxury destination and the most renowned resort in the magnificent Texas Hill Country. Rated 4-Diamonds by AAA and just 12 miles north of San Antonio International Airport, the resort features two 18-hole TPC San Antonio golf courses, Lantana Spa, the 9-acre River Bluff Water Experience, eight distinctive restaurants, 265,000 square feet of state-of-the-art meeting and event space, free Wi-Fi in the lobby and more than 1,000 custom-designed guest rooms.
JW Marriott San Antonio Hill Country Resort & Spa is a proud participant of various environmental, energy conservation and waste reduction initiatives. The San Antonio resort hotel is sure to make any visit an unforgettable experience, and it all comes with JW Marriott's impeccable service and lavish amenities. Whether you're seeking a peaceful respite, productive meeting or exciting and fun-filled family vacation, JW Marriott San Antonio Hill Country Resort & Spa is designed not just to exceed expectations but redefine them. For information, call 1-210-276-2500 or visit the resort online, and on Instagram and Facebook.
About JW Marriott
JW Marriott is part of Marriott International's luxury portfolio of brands and consists of beautiful properties and distinctive resort locations around the world. JW Marriott is a tribute to the founder of Marriott International, J. Willard "J.W." Marriott, who prioritized his own well-being so that he could take better care of others. Inspired by his approach to life and rooted in holistic well-being, JW Marriott properties offer a haven designed to allow guests to focus on feeling whole – present in mind, nourished in body, and revitalized in spirit – through programs and offerings that encourage them to come together and experience every moment to the fullest.
Today there are more than 100 JW Marriott hotels in more than 35 countries and territories worldwide that cater to sophisticated, mindful travelers who come seeking experiences that help them be fully present, foster meaningful connections and feed the soul. Visit JW Marriott online, and on Instagram and Facebook. JW Marriott is proud to participate in Marriott Bonvoy®, the global travel program from Marriott International. The program offers members an extraordinary portfolio of global brands, exclusive experiences on Marriott Bonvoy Moments and unparalleled benefits including complimentary nights and Elite status recognition. To enroll for free or for more information about the program, visit marriottbonvoy.com.
ABOUT MARRIOTT BONVOY®
Marriott Bonvoy's extraordinary portfolio offers renowned hospitality in the most memorable destinations in the world, with more than 30 brands that are tailored to every type of journey. From The Ritz-Carlton and St. Regis to W Hotels and more, Marriott Bonvoy has more luxury offerings than any other travel program. Members can earn points for stays at hotels and resorts, including all-inclusive resorts and premium home rentals, and through everyday purchases with co-branded credit cards. Members can redeem their points for experiences including future stays, Marriott Bonvoy Moments, or through partners for luxurious products from Marriott Bonvoy Boutiques. To enroll for free or for more information about Marriott Bonvoy, visit marriottbonvoy.com.