Park Hotels & Resorts: San Francisco Headwinds Overshadowing Strong Recovery (NYSE:PK)
August 5, 2023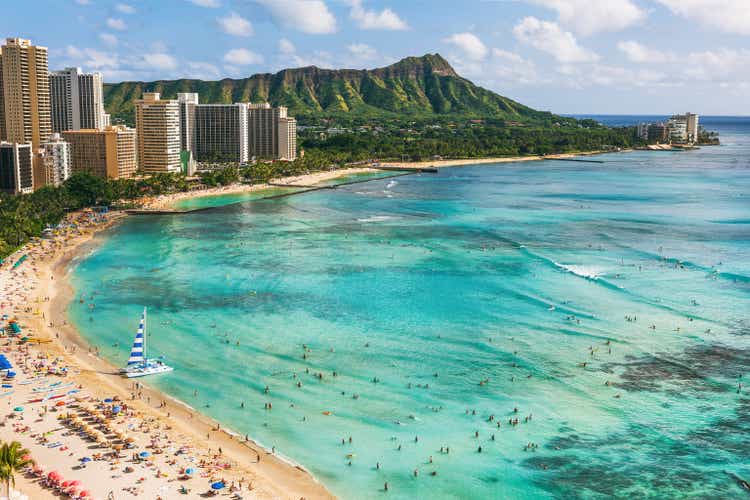 Investment Thesis
Last March, I initiated coverage of lodging REIT Park Hotels & Resorts (NYSE:PK) with a Buy rating and a fair value based on a NAV of approximately $21 per share. With shares trading at $11.4 back then and less than $13 today, the potential upside has decreased but remains substantial, from about 75% to 60%. The stock has failed to re-rate substantially, but an investment in PK has not disappointed relative to the broader market: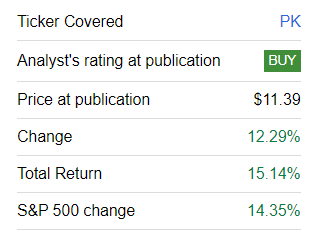 I somehow expected this result. I mentioned in my original assessment that I did not see an immediate catalyst, and in the absence of that, wide gaps between share price and NAV can persist over long periods. The long-term business outlook assumes the utmost importance under such a scenario and provides investors with an ideal setting for slow share accumulation. While a positive long-term outlook eventually determines a repricing of the stock toward NAV, in contrast, adverse business developments would end up with the NAV converging downward toward the share price. After analyzing Park's 1H23 results and listening to the earnings call, I lean on reaffirming my bullish stance on Park and continue seeing shares as undervalued.
San Francisco troubles
Besides the known headwinds coming from the increase in interest rates, which affects all leveraged equities, and the potential of a global slowdown, that would weigh heavily on international travel, Park Hotels & Resorts seems to have one more issue to contend with: Its San Francisco exposure. The city is in a "doom loop," as the FT described its downward economic and social spiral:
We believe San Francisco's path to recovery remains clouded by record high office vacancy; concerns over street conditions; lower return to office than peer cities; and a weaker-than-expected citywide convention calendar through 2027. (Thomas Baltimore, CEO, Park Hotels & Resorts)
Against this backdrop, Park Hotels & Resorts management decided to head for the exit. It figured the quickest way to achieve the result was to return Hilton San Francisco Union Square and Parc 55 San Francisco keys to lenders. In June, PK stopped payments on the $725M CMBS loan secured by these two properties, as the loan was non-recourse. Park clearly explained the rationale and expected improvements to the portfolio in a presentation to investors released in connection to the event. The new "Park x SF" would significantly increase its exposure to Hawaii to almost 30% of 2019 adjusted EBITDA and materially reduce SF exposure to about 3% of 2019 comp adj EBITDA (from 12%).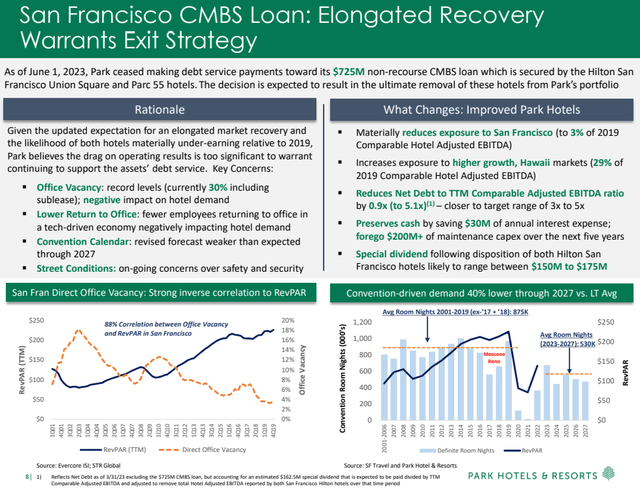 Because the two properties are severely underperforming, removing them from the portfolio would immediately reduce net leverage (net debt/EBITDA) by nearly a full turn from 6.0x to 5.1x, much closer to the long-term management target of 3x to 5x range. Comparable revPAR and adjusted EBITDA margin vs. 2019 and 2022 also would significantly improve, with RevPAR increasing from 85% to 93% of pre-Covid levels. Finally, on top of the cash preservation from the annual interest expense savings, the company would preserve up to $200 million in capex over the next five years. Still, these two properties were appraised for $1.6 billion in 2016, pointing at a more than 50% value destruction.
Ex-SF, Park posted a strong H1
Clouded by its exposure to the struggling SF portfolio, the company is having a hard time proving its worth to investors. However, aside from California, Park's 1H23 performance was on the right path to bounce back to pre-COVID levels, and the earnings call contained a few hints of this.
Group bookings for 2023 increased by $33 million, or over 150,000 room nights, compared to the end of March 2023. As of the end of June 2023, comparable group bookings for 2023 were 85% of 2019. During the earnings call, Tom Baltimore gave more color in his prepared remarks:
Healthy demand trends are being driven by strong convention and citywide bookings, especially in Chicago with convention room nights projected to increase nearly 70% versus 2023 […] in New Orleans, convention room nights are expected to increase nearly 14% next year to over 500,000 room nights or just shy of the 2019 peak.
Other key PK markets showed clear signs of strength, with Boston and Denver showing RevPAR growth for the quarter of 11% and 12%, respectively, vs. 2022. New York also made a strong comeback, with year-over-year RevPAR growth of 26% during the quarter, or 2% below 2019.
Wrapping up
I continue to like PK here and see the company shares as materially undervalued. The SF exposure has turned out to be a greater-than-expected drag on earnings. The company has now taken the painful decision to offload its two most significant San Francisco assets and re-focus on its Hawaii resorts (Hilton Hawaiian Village & Hilton Waikoloa Village) and the urban properties in the rest of the US (mainly Chicago, Denver, NYC, Boston and D.C.).
The outlook is promising, with resorts and urban properties that could experience significant tailwinds from now on. While operating at high occupancy, Hawaii resorts still lack over 90% of the Japanese tourists who used to make up to 20% of the business in the region. As the Covid scare gradually wanes even among the prudent Japanese people, their return to Hawaii appears inevitable, with occupancy and revPAR in the two resorts owned by PK set to increase materially further from current levels.
A busier convention schedule and higher bookings from groups in 2024 will significantly help the urban portfolio pick up steam and close the gap with 2019. Statistics provided during the earnings call were encouraging, and even if work from home is here to stay in some form, VR seems far away from on its way to replacing business conventions. Higher group bookings will also help significantly increase ancillary banquets revenues.
While the company will likely need to pay some fees and penalties, I expect the foreclosing on the SF assets to ultimately be a positive for Park shareholders. Interest payments will be decreasing by roughly the same level as EBITDA, and hence, based on forward NOI. My NAV estimate is unaffected.
Despite the negative market reaction, Park provided an honest first half report, and FFO for the second quarter beat estimates by $0.03. With adjusted FFO guidance already increased for FY23 from the initial $1.60 – $1.99 range to $1.76 – $2.12, I don't think lowering the upper end to $2.02 was a terrible sign either. I, therefore, reiterate my BUY rating for PK and the $21 price target.