Taylor Swift Can Show Solidarity, Say Striking Hotel Workers
August 5, 2023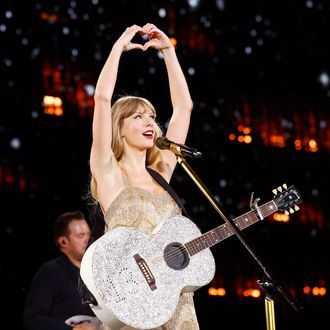 Photo: Emma McIntyre/TAS23gement/Getty Images for TAS Rights Mana
Taylor Swift's Eras Tour is expected to earn a record-setting $1 billion, with cash from ticket sales, merch, and sponsors potentially making it the "highest-grossing tour of all time," according to reports. And, with fans shelling out millions in cities across the U.S., Swift has had a dramatic economic impact — especially in the hospitality industry. The Philadelphia Federal Reserve said that hotels there saw "the strongest month for hotel revenue in Philadelphia since the onset of the pandemic, in large part due to an influx of guests for the Taylor Swift concerts in the city," per USA Today. Chicago tourism authorities said Swift's appearances there helped the city "set its new all-time record for total hotel rooms occupied!"
The impact on Los Angeles's hotels is no different: According to data cited by the Los Angeles Times, room rates during the six nights Swift is performing are 16 percent higher than on those same days last year, averaging out to $302 per night. More hotels in the L.A. area are booked compared to the same nights last year, with occupancy rates increasing up to 20 percent, per the newspaper. But for many hotel workers in L.A., Swift's boost to the industry isn't cause for celebration. Thousands of workers from dozens of hotels went on strike in July for better wages and protections, and they are asking one of the world's biggest stars to postpone her shows — or at least delay some of the six-night Los Angeles run in solidarity with them. Swift, for her part, has not responded to calls for postponing the tour stops, which kicked off August 3. The members of 32,000-worker strong Unite Here Local 11  believe that if Swift supported them, then management would have to listen, and one of the ongoing Hollywood strikes could come to a close. (Members of the WGA have also stood with hotel workers on the picket line to show their support.)
Jose Herrera, who works at a Los Angeles–area hotel, is among the Unite Here Local 11 employees striking. "One of the main reasons is, we're asking for the respect from management," Herrera told Vulture. "Management has their workers overworked … at times, you are usually working two to three different positions at the same shift for the same pay rate that you're hired for." Herrera, who was hired as a front-desk agent at $21 per hour, said that he now has to handle luggage, help guests to their rooms, and perform managerial work. The hotel management isn't hiring enough people, he said, because they think it's possible to save money by just dumping more work on others. Meanwhile, employees are struggling to survive on stagnating wages as living expenses rise. "Us locals have to sometimes drive 30 minutes-plus to get to our job, because we can't even live around where we work," Herrera said. The union requested a $5-per-hour wage increase; management offered 75 cents, he said.
Herrera, who is a Swift fan himself, believes that if Swift postponed her shows, it would be in line with her overall messaging: "I love what she stands for. I love what she represents … she stands up for what's right. I feel like we're really fighting for respect, and hopefully, you know, get what we deserve." The Swiftie hopes Swift "listens to what we're saying and hopefully stands up with us. Because yes, of course, she will be losing a lot of revenue if she were to postpone a show — but I know that's not something that is as important to her if she will stick up for us." And while it seems unlikely that Swift will delay her remaining Los Angeles shows, it wouldn't be completely out of line for her to at least voice support for those on strike, given that she has shown support of other workers supporting the tour. Swift gave her Eras Tour truck drivers a $100,000 bonus, according to USA Today.
Also among the striking workers is Ricardo Cortez, who works in housekeeping at a Los Angeles–area hotel. He wants Swift to postpone her concerts because they will bring hundreds of thousands to area hotels amid the strike, and "we don't need that right now … the hotel is making a lot of money and doesn't want to give their workers what they're asking for." Cortez also told Vulture: "Give us a chance to fight for a good contract." Cortez, who picks up hotel trash and cleans up dirty linens, said they need this because "everything has gone up." A better contract would help them "support us, our families." He said that Swift could help if she would "tell her fans not to come to these hotels for now."
Politicians in California have called for a postponement as well. "Hotel workers are fighting for their lives. They are fighting for a living wage. They have gone on strike. Now, they are asking for your support," dozens of California officials, including Lieutenant Governor Eleni Kounalakis, said in an open letter. "Stand with hotel workers and postpone your concerts." Swift's rep did not respond to Vulture's request for comment. Notably, Swift would not be unique in showing solidarity with striking workers if she were to postpone the shows or even just speak now. Snoop Dogg, who at one time was inspired by Swift to rerecord his music, canceled his Hollywood Bowl shows because of the writers' and actors' strikes. The rap legend said on Instagram: "We continue to stand in solidarity with all of our brothers and sisters in the WGA and SAG/AFTRA during this difficult time and remain hopeful that the AMPTP will come back to the negotiating table with a REAL proposal and we can all get back to work." In other words: There's precedent here for Swift to do some vigilante shit rather than be an anti-hero.