Woman Reveals 'Borderline Illegal' Booking Hack To Get the Cheapest Flights
August 10, 2023
Looking for the best flight deal for your next trip? One woman has claimed you can see "all the good deals" using a simple hack.
A woman in a viral video posted on July 27 by TikTok user @travelsocial said: "There's a Google Flights plugin that seems borderline illegal."
The latest post comes as air travel sees continued strong growth, having ground to a halt at the onset of the COVID-19 pandemic.
According to a July 2023 report from the International Air Transport Association (IATA), global total passenger traffic was reported to now be at 96.1 percent of May 2019 (pre-pandemic) levels.
"Planes were full, with the average load factors reaching 81.8 percent," Willie Walsh, the IATA's director general, said in the report. North American airlines led the pack at 86.3 percent.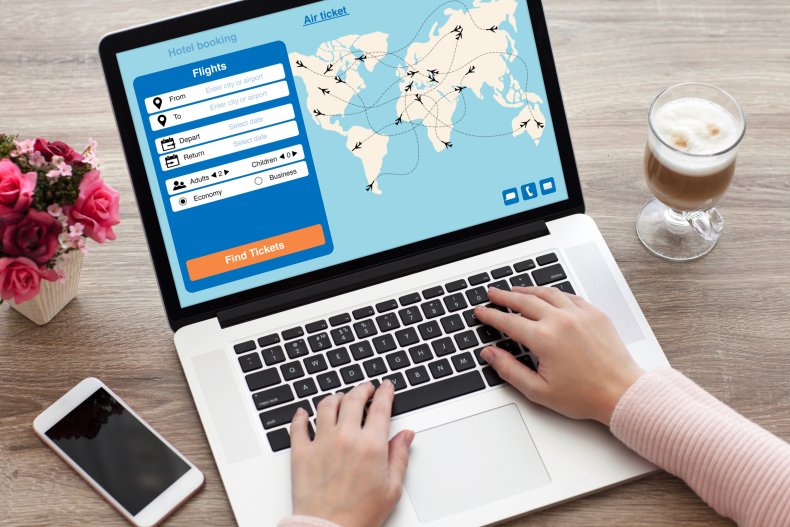 According to the report, traffic among North American carriers increased by 31 percent in May 2023, compared with the figure reported for the same month in 2022.
"Capacity increased 23.2 percent, and the load factor rose 5.1 percentage points to 85.1 percent, highest among the regions," the report found.
The latest viral clip begins with a reference to a different TikTok video shared on July 20 by another woman, who spoke about booking her trip using Google Flights. She said: "Am I the only one that didn't know that Google did this?…if the prices drop below what I booked it for, they give me the money back…I've never had an airline do that for me."
However, a message overlaid on the aforementioned clip posted by @travelsocial read: "You're being ripped off by Google Flights if you do this.
A voice in the latest viral clip said: "Look, I love Google Flights but sometimes it doesn't give me the best deals."
The footage shows a computer screen featuring the results of a Google Flights search for a trip from New York to Tampa. A flight with Frontier Airlines is shown as the cheapest, followed by one with JetBlue.
The voice explains: "What it does not show is that if you click on the JetBlue website and you look at this [a pop up message in the top right corner of the screen], it gives you $50 off of all flights."
The footage shows a message from the Travel Arrow plugin titled "JetBlue $50 Off All Flights." The message shares a promotional code for getting $50 off round-trip flights or $25 off one-way tickets.
"If you travel, you always need to go to the airline's website and then download a plugin like Travel Arrow, so the deals pop up right here," the voice in the video said, noting "it'll show you all the good deals…"
TikTokers were amazed by the latest travel hack and several shared their own tips for bagging the best flight deals.
Aurora wrote "I'M SAVING THIS…" and Upgraded Vacation said "Thank you for the tip!!"
Monique said "Thank you was looking for flights today."
Christine said "use google to search but always book directtttttt !!!"
User @marissamclean8 agreed, saying "I always use google flights to find the flights then go to the actual website for the airline and it's usually even cheaper than google flights."
Jay noted "change country settings within google flights to get cheaper flights as well."
User @idislikechz claimed "i swear the apps are usually a lil cheaper too."
Diana wrote "Use skyscanner and clear ur cookies / cache after every search :)"
Newsweek has contacted the original poster for comment via TikTok. This video has not been independently verified.
Do you have any travel-related tips or stories to share? Let us know via life@newsweek.com and your story could be featured on Newsweek.